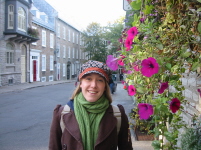 Jessica in Quebec
I do try to have a life outside of work and research. Hopefully this page will give you a sense of me outside of work. Basic stats: I am married to a beautiful and tolerant woman whom I've known since high school. We have two cats and too many books.
In my spare time, I like to make wine. The best wine I ever made was an apple wine from juice. The worst is currently sitting in my basement, and stinks (literally). I blame it on the friend I made it with, but in reality this is what you get when you use late harvested grapes that were trucked across country and then sat in a large refrigerator for weeks. There are about 20 gallons that I can't bear to, but should, put down the drain. My wife suffers most from this hobby, through taste tests of bad tasting wine and a messy basement.
Those are mine!
I've played soccer since I was a little kid. I grew up watching the San Francisco Bay Blackhawks play in a high school stadium a couple miles from my house, and got to go to all of the 1994 World Cup games at Stanford Stadium. I run my school's graduate student soccer club, if you're in the area and want to play, shoot me an email. We're a friendly group!
Help!
I'm not a gourmet, but I love to cook. I hope someday to be able to improvise delicious recipes, but most of what I cook is based on recipes available online. I highly recommend Pork and Black Bean Chili, Baked Salmon (try it with cilantro instead of parseley) and Spicy [seafood] fra Diavolo (because it's tasty AND you light your pan on fire!). My great cooking shame is that I cannot cook a steak for the life of me. If it's red meat and I'm cooking, it's either stewed or ruined.
Finally, I love Spain. I studied abroad in Granada for a year, and worked at the American embassy in Madrid for a summer. I took my wife there for our first vacation as a couple, and we can't wait to go back. I keep my Spanish up by listening to a lot of Spanish, but I'd characterize my speaking ability as rusty. Nothing a week or two in Spain won't fix! Of course, I'm still going to root for the US when we play them this summer.